History of electronic construction
And now a little bit about the history of electronic constructions that were designed many years ago. The constructions were created using small scale  integration TTL digital integrated circuits: popular gates, flip-flops and counters, which were then new on a global scale. Today, similar designs are carried out using micro-controllers, which in a small housing, a processor equipped with many peripheries allowing for the implementation of complex functions. But then there were no such elements, so the necessary functions of the system had to be programmed by conecting the integrated circuits with a complicated network of paths.
Below are some of the archival articles published in the popular in Poland periodics for radio amateurs – Radioamator i Krótkofalowiec and Radioelektronik.
"Automatic CW keyer with integrated circuits by SP5DDF" – Radioamator i Krotkofalowiec No. 1 from 1976.
The CW keyer has been duplicated by HAM-s in many copies, also in the maritime version. Some of them have survived to this day and even work, like the one presented in photographs taken by Zygi SP5ELA.
"Automatic CW keyer with memory by SP5DDF " – Radioelektronik No. 3 from 1979.
The simple CW telegraph keyer from the previous article has gradually grown into a very complicated system, which was designed to save and reproduce certain sequences of texts transmitted in Morse code, improving the telegraph communication
Today, all the functions of this huge scheme are replaced by the one micro-controller. For example, a description of a very good electronic CW keyer with a micro-controller 89C4051, equipped with 16 Kbit of external EEPROM memory, easy to hand-make, can be found on the SP5CIB website.
"Digital frequency synthesis in the UKF-FM radiotelephone by SP5DDF " – Radioelektronik No. 3 from 1981.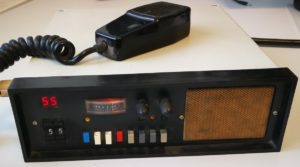 The SP5DDF synthesis has been designed to be easily installed into the popular Radmor 3001 mobile radio, which a large number of "demobiles" were then given to amateur radio operators in Poland. This enabled the development of amateur FM communication in the 145 MHz band without the need to look for deficit to find quartz for individual channels.
The SP5DDF synthesis scheme is a classic phase-locked loop (PLL) system with the original phase and frequency detector solution ( US4 and US5 in the circuit diagram), giving fast synchronization and very low noise at the detector output. Today, it can be use as a didactic example of principles for the construction of PLL phase loop systems.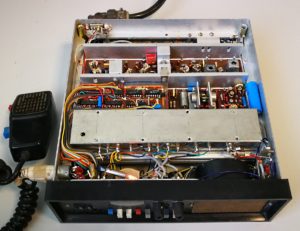 The SP5DDF synthesis has been reproduced by HAM amateurs in a large number of copies and additionally supplemented with a counter system for digital tuning and scanning of the amateur 145 MHz band. The advantages of the synthesis include the fact that it was made entirely on the then available digital integrated circuits of the UCY series produced in Poland by the Unitra-CEMI Scientific-Production Center of Semiconductors. Today, there are no more of these plants, tears in the eye, who bothered it?